There's a writer I enjoy reading.
Robert Brault
I have a list of his quotes ready to use for posters and bulletin boards in my classroom!
I revisit Robert's quotes just because...
They're great!
When I read this quote, I knew I needed to used it for school...
It's wonderful for
character education
.
After mentioning this to Robert Brault,
he offered the quote along with a lesson for the students.
Maria,
If you're making a poster for schoolkids, you might consider making a contest of it. Who can supply the missing words/phrases in the following: "You do not wake up one morning a bad person. It happens by a thousand tiny surrenders of _______ to ________." You could have the kids make up a list:

Examples:

"who you are"/"what others want you to be"
"what you know is right"/"what you know is wrong"
"integrity"/"popularity"
etc.
And... here's how it worked out...
I created the large poster, with the key phrases missing.
The students were asked to think about what might belong there...
When all the papers were in, I knew there would be a lot of "good to bad" responses

(I teach middle school)

...but there were some thoughtful ones as well. I put a sampling of their responses on the poster.

An opportunity came to talk about this quote again after a student made a bad decision
in my class . . .and then continued this behavior in other classes during the day.
"tiny surrenders"
They got it... they really got it!
Thank you Robert Brault!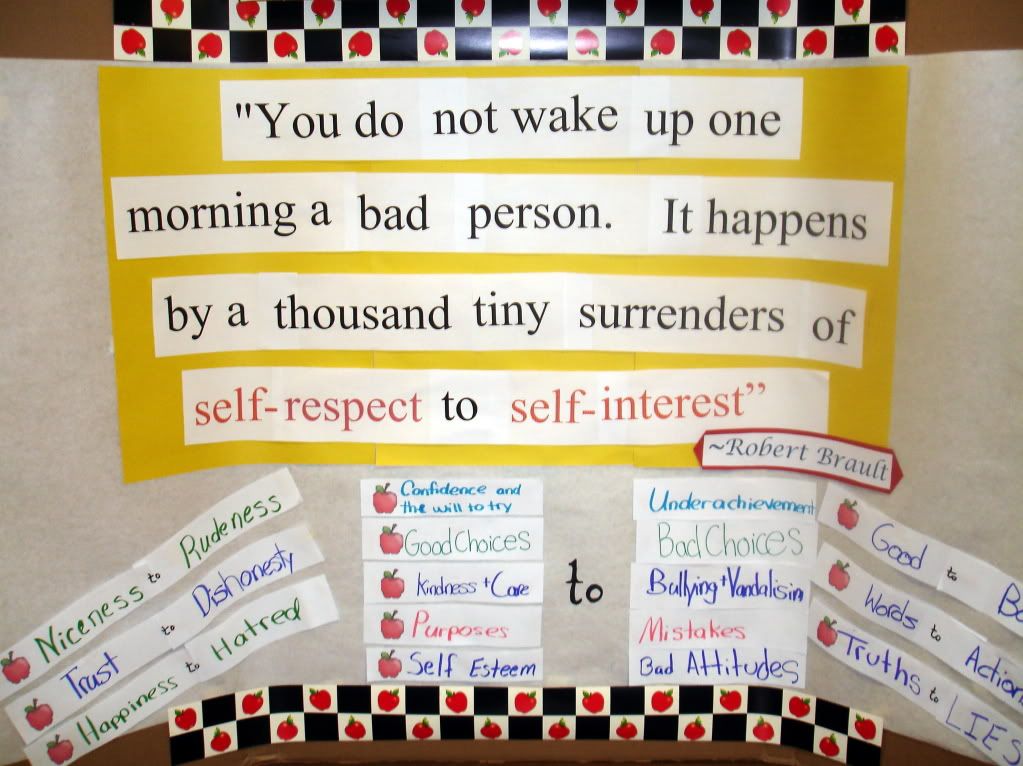 I've been there myself... surrendering a little here and a little there...
but there's

beautiful Saving Grace
for a

wretch

like me.
I pray for my students, hoping their tiny surrenders will mostly be to what is


good and right and lovely.
*

*

*

*

*

*
Thank you, Thank you Robert Brault!
~What a great lesson for all of us~