Hi Koralee!
I hope this little post helps.
I used the 'post options' to set the date as April '09
so it's like a secret post ;)
About my frother... It's just a simple lil' thing, but I love it!
My brother, Joe, first showed me how to make great lattes.
I bought the frother he used, an
aerolatte
.
The motor lasted about two years.
Then I tried the
Bodum
but the glass part broke!
I think that made the stiffest foam. But the glass is so thin.
I love the milk frother I have now... from the Melitta Coffee Co.
Several years ago, the Melitta co. offered it
free
for using their coffee filters.
I think I had to send in 3 or 4 UPC labels.
The motor is great...but you have to have good batteries.
I use rechargeable batteries in this, since I use it often. This way the motor is always functioning at its peak performance. (for a frother ;o)
I don't see it on their site any more... They sold it for $17.
I just emailed them and hope they get back to me.
My cousin has one ... she said she got it at the Christmas Tree Store!
*for a lot less, I'm sure!
Having frothy milk in my afternoon tea is such an awesome treat!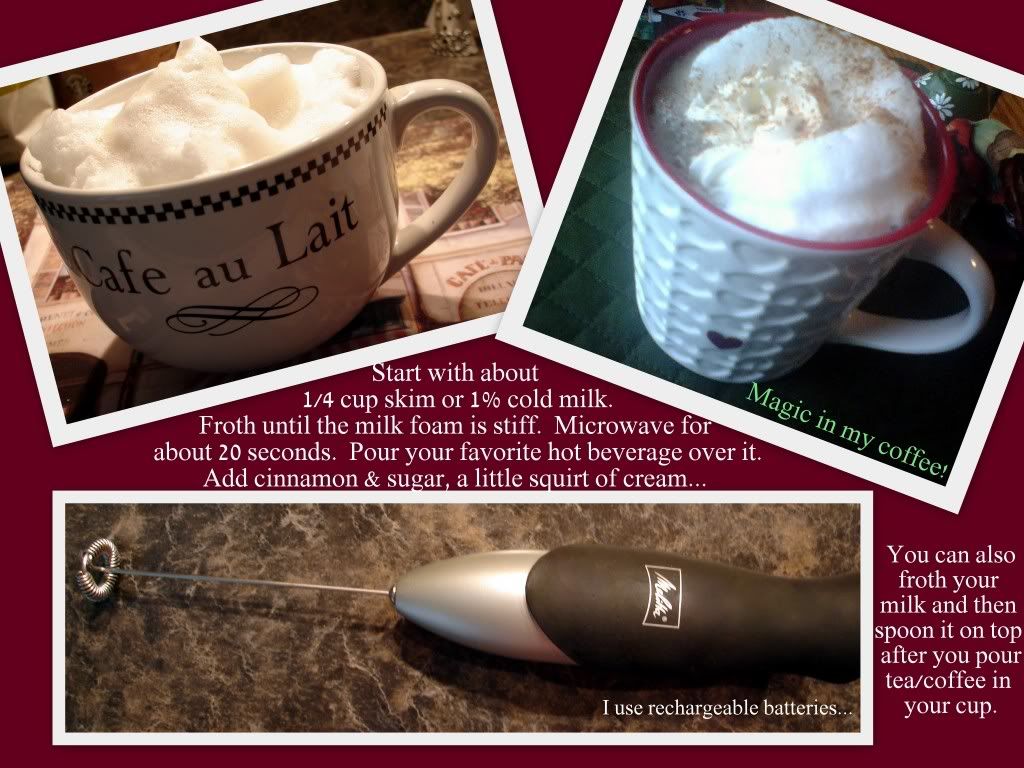 Hope your weekend is restful and that your upcoming week is gentle.
Your students will certainly be happy to have you back !
Take care and God Bless You,